Katolian is a Civilization based from the Netflix's The Dragon Prince
About
Lore
In the realm of the Dragon Prince. The Katolian Civilization thrives in coordination with the Cazathan Empire. Yet they stand on their own and leading various civilizations. allies and foes stand by or fight side by side to shape the course of history in the world that could stand the test of time.
Civ 6 Mode
Each leader in this mode have different colors and can be separated when playing a mirror civ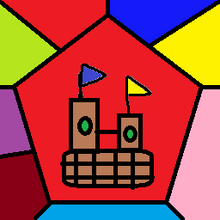 Leaders
Ezran
Callum
Rayla
Viren
Azymondias
Soren
Claudia
Harrow
Unique
Civilization Ability= Arcane of Knowledge and unity: All cities under their rule will receive +7 Sciences when founded and gains +2 in every Campus district and its buildings have in the city. When forming an alliance The Katolians gain +3 Science and when at war against Katolian gain +5 Combat strength to all units. Each leader have a unique unit besides the Mage of Katolias.
Civilization Unit= Mage of Katolias= Replaces the Crossbowman, unlocked by researching Castles. Can be purchase by faith and has a 2 promotion trees and gains +2 Combat Bonus increase when fighting against ranged units or cavalry units.
Civilization Building= Guilded Lodges= Replaces the Barracks, All units gets a free promotion when trained in that city and +3 Combat Strength to Melee the Mage of Katolias units.
Great Persons:
Leaders Ability
Ezran-David's Heart and Harp: Culture will be generate +2 if adjacent to a pasture and +1 Gold and Culture will be received from other civilizations if trading luxury goods.
Callum-Magus of the Skywrath arms: Each University or Library in his empire generate +2 Science and +2 Housing, Gains culture bomb and +3 Loyalty when building a Campus district.
Rayla-Blessings from Luna Regina: When night falls in-time. All units gains +2 Visibility and gains a range attack from the capital 3 tiles inside culture borders with Lunar Strike.
Viren- Magus of the Sundered Dawn: When Viren spreads his religion to cities near his border. It will lose 4 loyalty and can be shifted to his side. All Melee units under his command also gain a free Dark Magic promotion.
Azymondias-Son of Thunder and Hurricane: When his cities is hit a hurricane. Instead of pillaging it gains additional upkeep and power by 2 and also causes mild damages when the sea levels on his coastal cities rise. +4 Combat strength to units near the coast or mountains.
Soren- Crownguard Command: Can train two unique units: The Crownguard Swordsman and the Kingsguard Knight.
Claudia-Death Eater Cult: When spreading religion. Inquisitors can launch a unholy blast that loses the city's on the enemy's loyalty and health.
Harrow- Towering King: levied City-state military units the units gain +3 Movement speed and +5 Combat Strength. Upgrades costs 80% of Gold, and when Levying city states. Harrow gains +2 Envoys. Gains the Royal Vault as replacement for the Bank building and Banther fort replace the standard fort and when occupied units gained +3 Combat Strength
Leaders Agenda
Ezran= The Good Shepherd: Likes to improve Pastures and gain high Food and population and likes Civs who trade goods with him. Dislike if civs have lower growth.
Callum= Scholars of Magic: Like civilizations who focus on science growth and likes civs who do the same. Dislike if civs generate low science.
Rayla=
Viren= Just as Distraction: Like civilization who focused on Mounted and Gunpowder units and have a flanking promotion
Azymondias=
Soren=
Claudia= Dark Wizard Master
Harrow= Parental Love
Unique Units
Ezran-
Callum-
Rayla-
Viren-
Azymondias-
Soren-
Claudia-
Harrow-
Color Code
Ezran=Red
Callum= Blue
Rayla= Pink
Viren= Purple
Azymondias=Sky Blue
Soren=Yellow
Claudia= Yellow Green
Harrow= Dark Red
Capitals when Leads
Ezran-
Callum-
Rayla-
Viren-
Azymondias-
Soren-
Claudia-
Harrow-
If Solo: KATOLIS
Civ 4 Mode
Leaders
Ezran
Callum
Rayla
Viren
Azymondias
Soren
Claudia
Unique
Civilization Unit:

Ezran
Callum
Rayla
Viren
Azymondias
Soren
Claudia

Civilization Building=
Leader Personality
Ezran
Callum
Rayla
Viren
Azymondias
Soren
Claudia
Banner Colors
Ezran
Callum
Rayla
Viren
Azymondias
Soren
Claudia
Civilization Themes:
Soundtrack belongs to the Dragon Prince.
Ezran=
Callum=Only Human
Rayla
Viren
Azymondias
Soren
Claudia
Harrow